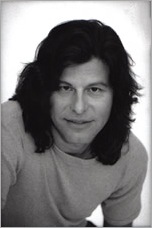 A classically trained musician, producer and songwriter who has recorded several highly acclaimed albums of his own material.

While living in Europe he was a well known session guitar player as well as a touring musician. Later on he established himself as a producer/songwriter working for numerous major and independent European record labels. So far over 250 of his songs were recorded and released by various artists. After relocating to Los Angeles, Peter set up his recording studio and began writing and recording in collaboration with other writers and artists.Soon his songs and productions showed up in various charts.

He produced several tracks for Irene Cara ("Flashdance") and the song "All My Heart" leapt up to the Top 20 in the US Dance Charts.
Peter wrote the song "All I Know" for Jazz Superstar George Benson's #1 album "Standing Together" (GRP); Peter's song "No Greater Love" written for Bryan Duncan (Myrrh Records) went up the Christian Charts to #16; he had a #1 album with Hi-5 in Greece and their song "Lathos I Sosto" co-written with Gordon Pogoda and Jason Blume topped the charts for 8 consecutive weeks. He also recorded, produced and write for Stan Bush ("Always"), (Vivian/BMG), Vesta Williams ("Out On The Limb") (I.E.), The New York Voices ("4th Of July"), (Sony) and Vann Johnson ("Don´t Forget", "No One Else", (2210 Records).

Many of his songs and recordings are being used on TV shows including "Super Fun Night", "Blue Mountain State", "Damages", "Ugly Betty", "House M.D.",
"Jersey Shore", The Buried Life", "The City", "16 And Pregnant", "Disaster Date", "Teen Mom", "Pranked", "Keeping Up With The Kardashians", "Bad Girls Club, "Real World", "Khloe And Kourt", "Love Games",
"Spin Crowd"
,"Smallville", "Melrose Place", "Cities Of The Underworld", "Basketball Wives", "Plain Jane", "The Baxter", "The Young & The Restless", "Speed Dating", "Guiding Light", "Another World", "Malibu Shores". The song "4th Of July in Mid-December" was used in the Polygram Movie "How To Be A Player". Some of his other songs have been used in feature films like "Steel Magnolias", "Louder Than Words", "Bratz", "The Natalee Holloway Story", "I Hate Valentine's Day", "Naomi and Ely's No Kiss List", "Killer Movie", "Coming Soon", "Pure Danger", "I Think I Do", "Sinful Intrigue", "Actress", "Primal Instinct" and "Boy Toy". Movie scores include "Blind Mice" and "That Brief Moment" shown at the Sundance Film Festival.

Lisa Frazier, another artist Peter has been working with, was signed to the European label UDP/Universal. Her first Single "Somewhere Tonight" reached #2 in the DMA Dance Charts in England, #1 in the Dance Chart in Japan and turned into a classic in the US Dance Club Scene as well. Peter co-wrote eight of the ten songs and produced the album, which also charted in Europe and in Japan.

In collaboration with Klay Shroedel Peter produced the comeback album of the group Jimi Jamison´s Survivor ("Empires")/USG/Warner Bros. This highly acclaimed album was called the best or one of the best Hard Rock/Heavy Metal releases in 2000 by several international rock magazines and websites.

Peter was also a member of the AOR group Under Suspicion (Jeff Adams (vocals, bass), Peter Roberts (guitars, keyboards) and Klay Shroedel (drums, keyboards). Peter co-wrote the album and produced in collaboration with Klay Shroedel. The album was released worldwide on Frontiers Records 2002. It went up to #10 on the Rock Charts in Japan and was named one of the 20 best Rock albums of the year by several international Hard Rock Magazines and webzines.

End of January 2007 Billboard Magazine announced that Peter's song "Fearless", co-written with lyricist Ron Boustead and performed by singer Daechelle, won the Pop category of 14th Annual Billboard Songwriting Contest. There were in excess of 18,000 entries from around the world.
The same song "Fearless" has also been awarded the People's Voice Award in the 2007 International Songwriting Competition, garnering far more votes than any other winning entry across all categories.
The same song "Fearless" is also featured song in the the motion picture "Bratz" (Lionsgate) as well as on the Bratz Motion Picture Soundtrack (Geffen).


In 2010 Peter won the 1st Prize of the Pop Category and the Overall 2nd Prize of the 2010 USA Songwriting Competition with his song "Is that So Bad", co-written with Ken Hirsch and Rosey Casey.


Peter co-wrote six of the ten songs of the album "All I Want" by Pop/Smooth Jazz vocalist Marcus Matthews ("All I Want"). Peter produced in collaboration with Lupo Groinig . The album was released worldwide on BDM Records in 2011.

Peter has been working on
La Toya Jackson
's album entitled "Startin' Over" (Ja-Tail/Bungalo/Universal). Peter produced the entire album and co-wrote all songs with
La Toya Jackson
and Jeffré Phillips. A first EP with 7 songs from the album was released worldwide in June 2011 through Ja-Tail/Bungalo/Universal Music.

As an artist Peter joined forces with legendary saxophonist Jimmy Roberts and together they formed the group "the Roberts Bros.". They collaborated on writing and producing their highly acclaimed first album "Sugar & Spice" (BDM Records). The Roberts Bros. received extensive airplay on Smooth Jazz radio stations across the US and Canada and received a nomination for the Prism Award for the "Best New Up and Coming Artist" by the Oasis Smooth Jazz Awards. The Roberts Bros. just finished the production of their second album "Twins" which is due for release on BDM records.


Last year, Peter finished producing Brazilian singer's
Bianca Rossini
's first album "Kiss Of Brasil" which quickly became a favorite on Jazz, Smooth Jazz and Latin radio stations across the world.
He co-wrote and produced several songs of the Swedish/Thai Rock project Jaigeng. The power ballad "I Will Live" reached #2 on the Swedish charts.

Currently, Peter is writing and producing singer
Aleesha
's first album, who represented the USA at the 2011 Viña Del Mar Festival in Chile and was recently featured at the Univision H2O Music Festival in Los Angeles.
He is also working on rapper Sky's new album, singer
Cristelle
's first album, and the African Dance/Rap duo
Lil' Keezy & Tyrow
's first album. All due for release in 2015.


© 2015 Peter Roberts. All rights reserved. Web Design by ProWeb Grafix